Manchester City's Caroline Weir: 'I always try a little dink. I practice it a lot' | Manchester City Women
OWhen Caroline Weir came off the bench in Manchester's first of back-to-back derbies three weeks ago and found herself, six minutes later, in a position almost identical to the position the Manchester City midfielder was in for his Puskas-nominated chip last year was instinct.
"In training, when I see that area just outside the box, from that angle, it's in my subconscious that I'm always trying to do a little dink," the 26-year-old says. "I try it in training and every game day warm-up, shooting. It's something I practice a lot, so when I tried it again I wasn't too surprised to having tried it. They certainly don't all come off.
This one did – another spectacular goal sinking Manchester United in the Women's Super League – and City followed by coming from behind to beat the same opponents 4-1 in the FA Cup. Weir scored again and it indicates strong preparation for Saturday's Continental League Cup final against Chelsea at a sold-out Plow Lane.
There was a lot of emotion in the first of these two victories. It has kept City in contention for a Champions League spot next season after the first third of their campaign was derailed by injury.
"We did an analysis session a few days ago and my goal was part of that," Weir explains. "I wasn't even looking at my celebration, or the players who came up to me – it was all the other players celebrating. Keira [Walsh] had given City fans a knee slip, Ellen [White] is just like that [arms aloft and screaming] in front of all this stand behind the goal.
"It's probably the best atmosphere I've seen in our Academy stadium, in terms of the number of people present and the noise level. We've come such a long way, with Covid, and I think that made it even more special.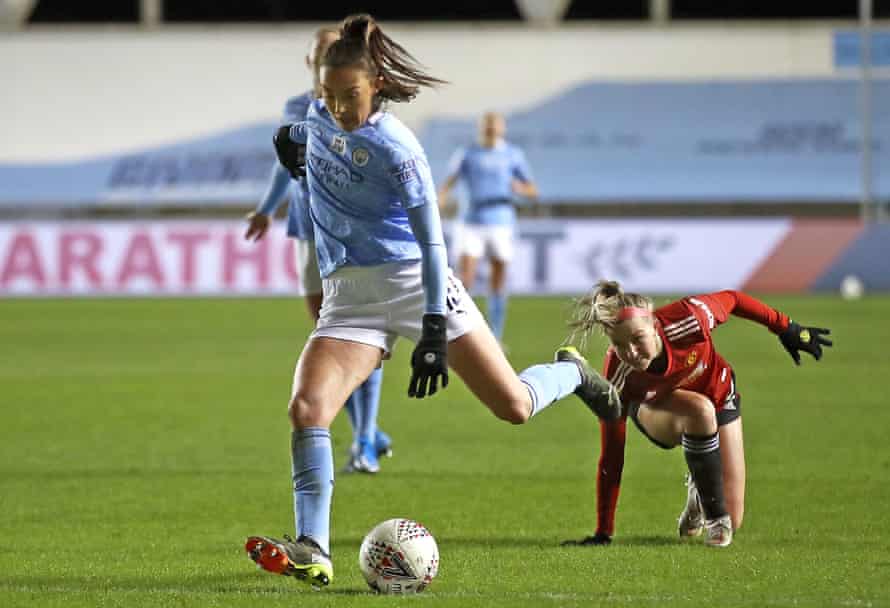 The poor start to the season, which included seven defeats between August and December, including a Champions League qualifier exit, was "difficult", Weir said. "There was such a mix of things going on with injuries and fatigue from the Olympics. I really felt that not only physically but mentally, and I was one of the few players still fit. So having to try to perform and get to the level where things weren't going so well was a challenge. We just had to weather this storm and I think we did.
The manager, Gareth Taylor, and tactics have been questioned by many outside the club. "We're all on social media, you can see things, but you have to ignore what's being said, and I don't think we brought that into our bubble at all to be honest," Weir says.
"Of course people are going to have their opinions and when the results don't go well people will say certain things, but all we care about is getting into training and what's going on in that building and in fact, it's pretty easy to block everything else because you stick together.
This mentality brought the group together. "Even if it's hard in the moment, it makes you stronger as a team. It's a cliché that the tougher times teach you more, but you actually do it. We knew it was a matter of time, to get everyone fit and to continue to focus on what we wanted to do. So training properly, sticking to the way we want to play, the manager believing in what we want to do and everyone agrees with that. So that's what we did. And hopefully we're on a better path now and can end the season strong.
Although the cup final is next, every game is a cup final, with City needing no drop in points to stay in contention for third place.
"No matter who we're up against now, we have to win," Weir said. "The next game happens to be a cup final. It's about maintaining that momentum. There's no better way to do that than to go and win a final.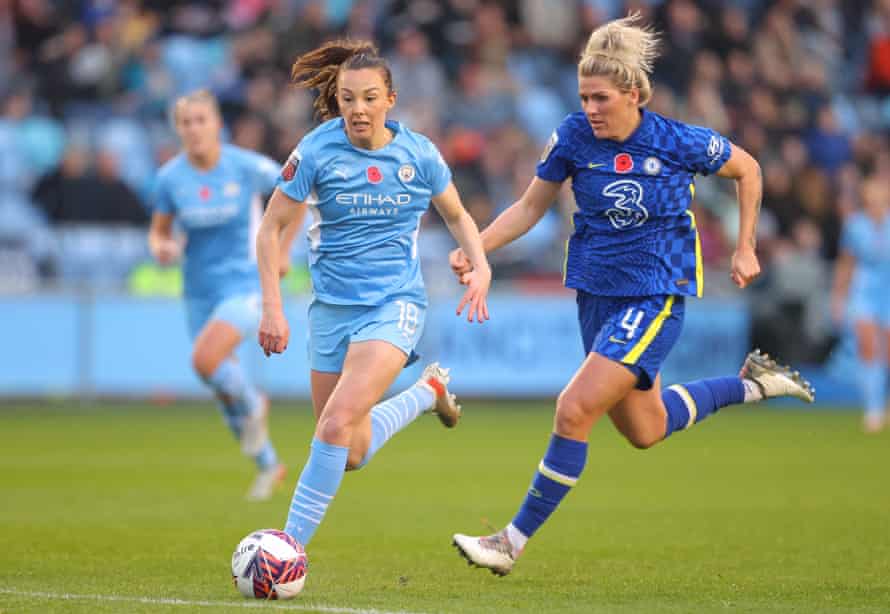 Beating Chelsea to build momentum behind this push won't be easy. City have lost twice to the Conti Cup holders in the league this season, a bruising 4-0 in November and 1-0 last month. "That November game feels like a long time ago," says Weir, a Scotland international. "We are in a totally different place now. Even the number of players we have now is so much bigger, which is a huge bonus.
Since returning from injury in January, Weir has started three times and started four matches on the bench, including both derbies. "You want to start games, especially big ones," she says. "At the same time, you have to respect the manager's decision and wait for your opportunity.
"I think, maybe until the last few games, I'm probably one of the least impactful substitutes you can have, just because of the type of player I am: I need the ball, I I need to find a rhythm inside the game. Usually it comes from being on the pitch from the start. But the last few games, I managed to make an impact in games, to score and to help the team. I'm not sure that's something I want to do all the time, but if that's the position I'm in on a game day, you just have to make the most of it when you get to it. have the opportunity.