Alisson begins pre-season training with Liverpool manager – and watches former club win 4-1 – Liverpool FC
Although Alisson is due to join the Liverpool squad to kick off pre-season later this week, the goalkeeper is already training with one of the club's coaches.
Alisson was among the Reds cohort to benefit from an extended break after post-season internationals, and the 29-year-old made the most of his family time.
More recently, he took a trip around Rio Grande do Sul, including a ranch in Lavras do Sul, 220 miles from his hometown of Novo Hamburgo.
But keen to get back up to speed, Alisson is now back in goalkeeping training as he prepares to join the Liverpool squad for the pre-season tour of Asia.
In a series of videos shared on his Instagram Story, the No.1 can be seen working with Reds goalkeeping coach Claudio Taffarel at the Serie A Internacional side's training ground.
Alisson joined AS Roma from Internacional in 2016, having come through the ranks at the Porto Alegre club from the age of 10.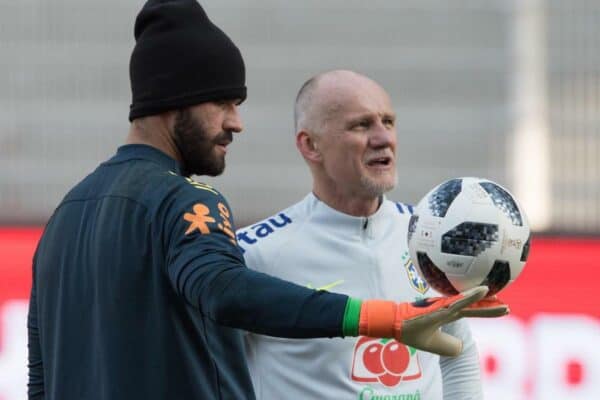 In the clips on Instagram, Taffarel appears to put Alisson through the usual quick drills designed to test a goalkeeper's agility, with a variety of saves being made in quick succession.
He continues the close relationship shared between the two, with Taffarel brought to Liverpool in November on Alisson's recommendation.
The 56-year-old now works alongside goalkeeper coaches John Achterberg and Jack Robinson, while also serving with the Brazil national team during international breaks.
So it now looks like Taffarel is also being used to keep Alisson in top form in an informal pre-season start for the pair.
After their session, Alisson secured Internacional's 4-1 win over Colo-Colo in the Copa Sudamericana Round of 16 on Tuesday night.
Joined by his wife Natalia and their two children, Alisson cruised to victory from the stands at the Estadio Jose Pinheiro Borda, with goals from Alan Patrick, Edenilson, Alexandre Zurawski and Pedro Henrique.
While he wore Internacional red on Tuesday, he will soon be back in Liverpool red, as he and Taffarel join the club this weekend.
.